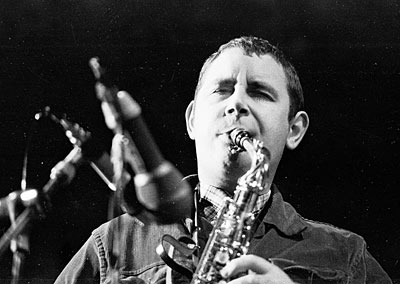 ORIGINAL, PART 1
Mike Osborne + Stan Tracey
Original
Cadillac : 1973
MO, alto sax; ST, piano.
Perhaps the greatest saxophonist ever to spring from the British scene, Mike Osborne's music is sadly little known. Osborne has been a part of many of the most thrilling developments in UK jazz, including Chris McGregor's Brotherhood of Breath band, and (the recently reissued) SOS, with John Surman and Alan Skidmore, not to mention his turn on the lamentably rare Ric Colbeck date, The Sun Is Coming Up.
His absence from the scene still casts a shadow, a lingering legacy of what could've been. Due to a deteriorating mental condition, Osborne doesn't play in public anymore. Athough he's unlikely to make a comeback, the music is ripe for rediscovery.
Tracey was no slouch himself, having warmed the piano bench at legendary UK club Ronnie Scott's for the better part of the Sixties, and if you've heard the Sonny Rollins-led soundtrack to the original Alfie, starring Michael Caine, you have heard Tracey's work. The early Seventies found Tracey somewhat at loose ends, though, career-wise, and around the time of this recording he was probably at his most outward-bound.
Original is basically one long performance, recorded live in April 1972, and halved over two sides. We don't usually post such long tunes, but this one should hold your attention over the long haul. It's a highwire balancing act between Osborne and pianist Tracey, the listening is intense and impressive. Osborne alternates between lyrical and fiery passages, sometimes managing both simultaneously. There's something of the go-for-broke fire, the emotional openness, of Karou Abe, but it's more refined, more… English, you might say. Tracey for his part reveals some massive ears.
Thanks to Doug S. from WFMU for providing us with this gem. There are no doubt folks who can speak with more authority about Osborne's personal history and other nooks in his discography waiting to be rediscovered. See you in the comments.