UNKNOWN
Muhal Richard Abrams
Tin Palace, NYC
1976.07.18
MRA, piano; Anthony Braxton, alto sax; George Lewis, trombone; Fred Hopkins, bass; Steve McCall, drums.
ARHYTHM SONGY
Muhal Richard Abrams
1-Oqa+19
Black Saint : 1977
MRA, piano; Anthony Braxton, alto sax; Leonard Jones, bass.
PANORAMA
Muhal Richard Abrams & Malachi Favors
Sightsong
Black Saint : 1975
MRA, piano.
MUHAL RICHARD ABRAMS: A LIFETIME OF VISION
With the recent sad loss of trumpet titan Bill Dixon, it is once again time to cue up another rendition of "gather ye rosebuds" and celebrate the musical giants that still walk amongst us. This year's Vision Festival, starting next week, does just this, honoring Muhal Richard Abrams with their Lifetime Achievement Award on Thursday, June 24th. We cannot think of a more worthy recipient.
Abrams is perennially under-recognized. A teacher, educator, organizer, composer, bandleader, and pianist of the highest order, not to mention one of the co-founders and guiding lights of the AACM during its five-decade run, Abrams has maintained a criminally low profile over the course of his entire career.
Emblematic anecdote from the intro to George Lewis' AACM history: Lewis proposes a biography of Abrams; he demurs, and suggests instead the need for a book on the AACM as a whole. So to some extent the low profile is perhaps desired by this artist. When the jazz blog conversation kicked up about four years ago with an Ethan Iverson-spurred conversation about overlooked Post-1973 Jazz, one of our two contributions to the exchange was Abrams. He was overlooked (it seemed to us) even then!
To both honor Abrams in our own small way, and draw attention to this year's Vision Fest — which, we can say with absolutely no hyperbole, presents their greatest lineup yet — we are happy to showcase Abrams leading a couple of small groups taking on his own compositions, plus a beautiful solo outing.
The first is an admittedly rough-sounding boot from a 1976 show featuring an all-star line-up. This gig took place at the Tin Palace, one of the essential spaces booking progressive, adventurous jazz in the mid-Seventies. (Stanley Crouch took over Tin Palace bookings in 1977.) Though the unison passages are tough to make out, the soloists are given a lot of space, and the sonics improve. What it lacks in fidelity it more than makes up for it in immediacy and warmth.
The next two are drawn from Abrams' great run of albums for Black Saint in the 1970s and 80s. While we are more familiar with his large group recordings of this period, which tend to highlight Abrams the composer and arranger more than player, we thought it fitting to showcase his ample talents with some small group performances.  Brian Olewnick turned us on to the joys of Sightsong several years ago. The disc also features a solo turn by Favors, and on most tracks they play together. "Panorama," though, finds Abrams, alone, in a notably lyrical mood. "Arhythm Songy" is culled from a curious album of the same period, featuring a crackerjack band that includes Henry Threadgill and McCall in addition to the personnel above. For this trio exploration, a winding theme opens up to some great counterpoint and striking simultaneous soloing from Braxton and Muhal.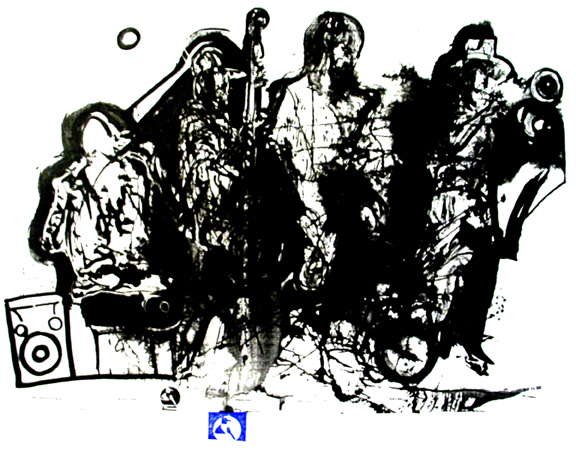 VISION FESTIVAL XV
For those in New York City in the next two weeks, there's an embarrassment of riches at this year's Vision Festival. Click above for the full schedule.
You can't go too wrong, but we especially recommend the show on Thursday, June 24, which features Muhal performing solo and with his trio. Joseph Jarman performs that night as well.
On Sunday, June 27th, there's the David S. Ware trio, Billy Bang, and Dave Burrell. Monday, June 28th, includes The Stone Quartet with Marilyn Crispell, Matt Maneri, Joelle Leandre, and Roy Campbell, plus Wadada Leo Smith, Mike Reed's People Places & Things, and Joe Morris. And this Monday, the 21st, these folks (and more!) will grace The Local 269 stage: Jason Kao Hwang, Darius Jones, Adam Lane, Tim Berne, Nate Wooley, and Mary Halvorson.
We'll be at at least three of these nights for sure. If you make the scene, be sure to say hello! (Just yell "Jeff" into the crowd and there's a decent chance one of us will turn around).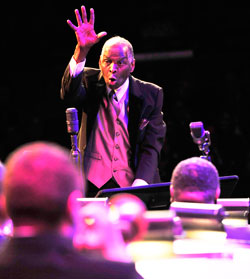 MORE MUHAL READING:
—-Jason Moran picks his dozen essential Abrams tracks here
—-A fine interview with Muhal here

Special thanks to Ethan Iverson for help with this post.
* * * * *
What are your favorite Muhal performances?