ENCORE
Fred Anderson & Muhal Richard Abrams
Live in Verona
Sala della Guardia : 1979
FA, tenor sax; MRA, piano.
Fred Anderson, RIP.
We can't quite muster the words to do Fred Anderson justice, so let this exceptional live track featuring him and Muhal Richard Abrams serve as our aural epitaph, for now. Thanks to Hank Shteamer for the tip. This is an especially appropriate cut given Abrams' deeply-felt musical tribute to Anderson mere hours after his death. More on that in a moment.
Not to turn this place into a mausoleum, but we've also been busy preparing a special Bill Dixon tribute that will include some uber-rare and fantastically wonderful deep cuts from his oeuvre. Stay tuned for that next week.
Of course it hasn't been all death and gloom around these parts. Over the last week, we attended a number of inspiring shows at Vision Festival XV in NYC. The specter of mortality sometimes haunted the shows, but the musicians transformed that heavy vibe into stirring and defiant art. Maybe next year we'll live blog the festival like it's the Oscars, but for now here are some after-the-fact impressions:
Muhal Richard Abrams – solo piano
The show starts with the somber announcement that Fred Anderson died several hours previous. Fuck. He was scheduled to play right after Muhal, so the fog of this sad news hangs especially thick. Muhal dedicates his piece to Fred's memory and begins playing a few funeral bass notes, coming back to them over and over. It sounds like the low end of the piano is mic'd for extra resonance because the bass reverberates deeply through the space.
The hour-long performance may be largely improvised but it feels like a suite, lucidly moving from section to section, building from brooding primal minimalism to athletic note flurries that recall Cecil Taylor to astonishingly delicate lyricism. The predominant tone is a stern romantic grandeur reminiscent of late Beethoven. It ends with Muhal pounding his palms against the keyboard and letting the discordant echo slowly die out.
This was clearly a Major Achievement. It's appropriate Abrams received a Lifetime award afterward because he poured a career's worth of ideas, emotions, and techniques into this one piece. We're tempted to inflate dead words like "monumental" with some sort of genuine meaning to try and describe the effect. Feel free to tell us that there were better performances at the festival, but we won't believe you.
Lifetime Trio featuring Joseph Jarman
The Lifetime trio offers concise songs with a bright melodic feel. With the lilting acoustic guitar, it almost comes across as lite avant jazz. Then Jarman starts to sing a series of platitudinous lyrics – bad news.  When he plays the sax or flute, everything is fine. When saxophonist John Tchicai joins the band for the last few pieces, things get even better.
Muhal Richard Abrams Trio
With nothing left to prove, Muhal lays back and initially only peppers the music with brief runs of notes. At first it's forbiddingly abstract and diffuse. With no drums, time feels especially elastic. Bassist Harrison Bankhead is excellent but tends to play five notes where one might do. Saxophonist Ari Brown is accomplished but his tone is a bit faceless. By the end though, their individual textures have been seamlessly woven into a roiling and mesmerizing mesh of sound.
Billy Bang's Spirit of Sir One
Begins with a special award and the announcement that Billy Bang is seriously ill with lung cancer. Fuck. His large ensemble piece is dedicated to the memory of Sirone ("Sir One") and features two bassists.The first number is a shimmering and through composed tone-poem that's the title track off Bang's upcoming album. Meditative and lovely. The second piece gives the group plenty of solo space but there's no fireworks until Bang picks up his violin and unleashes a frenetic and slashing solo that's so emotional it renders everyone in the room temporarily mute. Worth the price of admission by itself.
David S. Ware Trio
David S. Ware is seated because he's suffering from complications due to his recent kidney transplant. Fuck. But while his body may be in pain, the saxophonist has lifted to his playing to yet another level. He opens with an uninterrupted blast of sound that lasts five minutes, circular-breathing his way through the changes. Some editing may have lent more punch to the show, but the performance also brings to mind Coltrane's reply when asked why he played so long: "Because that's how much I had to say." Overall, it's s a powerhouse performance. The new album this fall should be something.
Peace Out Trio featuring Dave Burrell
Bassist William Parker and drummer Hamid Drake are typically stellar, but the star is pianist Dave Burrell. He plays like he's on laughing gas. His jubilantly unhinged runs of notes are breathtaking in their madcap logic. You have no idea where he's going next. Rhythmic grooves? Atonal cluster bombs? One-finger minimalism? Simmering melodies? Frantically playing with his forearms? That's just the first five minutes. And all without devolving into pastiche. Burrell's recent albums have been good, but nothing as thrilling as this.
Burrell's performance reminds us of Marc Ribot's wildest guitar solos, the ones where he finds ways to make the so-called wrong notes sound so right. Burrell often plays atonally, but in rhythm. He threatens to derail the performance at every turn and swerve the entire trio into a ditch, but he never does. He's not just reckless, he's authoritatively reckless.
His playing is so unfettered and anarchic (not to mention masterful) that he sounds more youthful and adventurous than many young pianists on the scene today. The kids should be taking notes.
The Stone Quartet
Diffuse and muscular in all the right places. The band keeps switching roles, erasing the line between soloing and supporting, texture and melody. Trumpeter Roy Campbell can occasionally get too pyrotechnic for our tastes, but here he's the ideal catalyst whenever pianist Marilyn Crispell, bassist Joelle Leandre, and violinist Mat Maneri threaten to get overly bogged down on the microtonal tip.
Touch the Earth II, featuring Wadada Leo Smith and Gunter "Baby" Sommer
One of the festival highlights. We know to expect Wadada's exceptionally clear and piercing trumpet tone to be powerful, but his split-second reflexes and melodic inventions are equally dazzling. Gunter Sommer is from the same full-body and kitchen sink school of drumming as Han Bennink, but he's also not afraid to be simple, teasing out steady grooves  and comfortable with silence. This telekinetic performance delivers whimsy, wonder, and sheer beauty with a sense of dramatic tension that keeps the audience rapt.
People Places & Things
Mike Reed's quartet is impressively tight. While their expertly played head-sol0-head format is a nice change of pace, it also seems strangely retrograde after the complex interplay of The Stone Quartet and Touch the Earth II. The best parts here feature the two saxophonists playing in tandem to concoct sizzling melodic lines. Special note to musicians: Bass solos are killing jazz.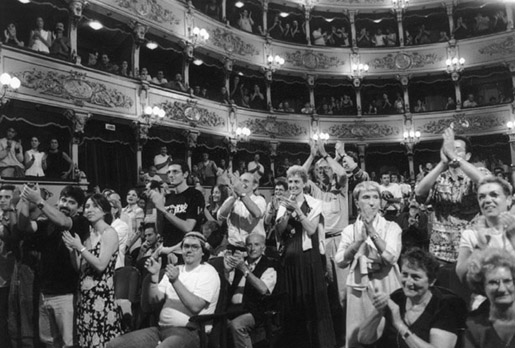 Supporting the Music
Attendance at Vision seemed significantly lower than in years past. The Abrams Playhouse stage had great acoustics, most of the bills offered excellent values, and the festival ran like clockwork. So it was sobering to see giants like Wadada Leo Smith playing to crowds that could have fit in The Stone. It was nice to see so many familiar faces, but maybe jazz fans need to start taking their friends and colleagues to shows like these. In the midst of this summer of death, it's more important than ever not to take these musical opportunities  for granted.
***
What were your Vision Festival highlights? Or highlights of any recent jazz shows you've attended?
What are some of your favorite Fred Anderson tracks?