FREEDOM DAY
Max Roach
We Insist! Max Roach's Freedom Now Suite
Candid : 1960
MR, drums; Booker Little, trumpet; Julian Priester, trombone; Walter Benton, tenor sax; James Schenck, bass; Michael Olatunji, conga; Tomas DuVall, percussion; Raymond Mantilla, percussion; Abbey Lincoln, vocals.
GARVEY'S GHOST
Max Roach
Percussion Bitter Sweet
Impulse : 1961
MR, drums; Clifford Jordan, tenor sax; Eric Dolphy, bass clarinet, flute; Booker Little, trumpet; Julian Priester, trombone; Mal Waldron, piano; Art Davis, bass; Carlos Valdes, congas, Abbey Lincoln, vocals.
U-JAA-MA
Max Roach and Archie Shepp
The Long March
hatHUT : 1979
MR, drums; AS, tenor sax.
BIRTH
Max Roach and Anthony Braxton
Birth and Rebirth
Black Saint : 1978
MX, drums; AB, sax.
DUETS – PART ONE (EXCERPT)
Max Roach and Cecil Taylor
Historic Concerts
Soul Note : 1984
MR, drums; CT, piano.
"You can't write the same book twice. Though I've been in historic musical situations, I can't go back and do that again. And though I run into artistic crises, they keep my life interesting." -Max Roach
We're sad to learn about the passing of the great Max Roach.
First the obvious: Max Roach was one the great drummers. Any genre. Period. His contributions to jazz have been immeasurable. Just skimming his impressive discography with one eye closed you'll find the legendary sides with Charlie Parker, the famous Massey Hall gig, Miles Davis's Birth of the Cool, seminal recordings with Bud Powell, the group he co-led with Clifford Brown, the essential Money Jungle with Duke Ellington and Charles Mingus. And damn, that's scratching the proverbial surface.
Many obits will stick to those historic moments and they are indeed impressive. But Max Roach never rested on his laurels. Like few others, he spanned jazz history from bebop to the furthest reaches of the avant garde. And unlike many of his peers, Roach restlessly sought to play in different contexts and embrace new musical modes. He embodied the idea that music was one great continuum and shredded the received notion the avant and the tradition were somehow at odds.
So for anyone who never got beyond the impression that Roach was mainly a killer bebop drummer and for those who never dug into his massive catalog, we'll be highlighting a few of his more outwardly adventurous recordings.
* * * * * * * * *
First up, a cut from one of Roach's breakthrough recordings, We Insist! Freedom Now Suite. This record helped introduce explicit protest into jazz. Its aggressive tone and radical politics were an important contribution to free jazz, planting seeds that would quickly flower in the 1960s. It heralded the personal, the political, and the musical as one matrix. And the music here is key — because Max knew the music had to be freer for the message to truly resonate. Check out "Freedom Day"'s urgent and percolating polyrhythms, roiling groove, the interwoven horn charts, Abbey Lincoln's theatrical vocal salvos. And oh yeah, that drum solo.
* * * * * * * * *
Second, here's "Garvey's Ghost" — not to be confused with the great Burning Spear album of the same title — from Roach's brilliant Percussion Bitter Sweet. Coming directly on the heels the Freedom Now Suite, this album has been overshadowed by its predecessor's revolutionary cocktail of protest and art. But while Percussion will never have such historical importance, in many ways it's the superior album.
Roach took the musical ideas of Freedom Now and developed them more fully here, using the same core group while adding Eric Dolphy and Art Davis. "Garvey's Ghost" fuses Lincoln's wordless vocals with a flotilla of Afro-Cuban-inflected percusssion. The horn solos careen above a bed of pulsing polyrhythms. The result is dizzyingly complex and immediately arresting. This isn't some mournful ode to Marcus Garvey, but a stomping, joyous, and slightly menacing parade in honor of his visionary spirit.
* * * * * * * * * *
Third, by request, we're pleased to share a blazing cut from the remarkable series of duets Roach performed with Archie Shepp. The 26-minute title track of The Long March sessions is a take-no-prisoners brain-scrambler, but we've chosen the less epic but still astonishing 12-minute version of Shepp's "U-JAA-MA."
Soulful and incendiary, it's a mash-up of hardbop, modal, swing, and free jazz modes — a modernist monsta. Max is typically brilliant throughout, unleashing a sculpted barrage of ideas while finding rhythmic solutions to problems must drummers don't even know exist. And then there's Shepp, who's on the top of his game with some of his very best playing from this period.
Now, anyone out there know the story behind Shepp and Roach's Force: Sweet Mao -South Africa 1976 session?
* * * * * * * * *
Fourth, there is the first duet between Roach and Braxton. This studio date found the two titans meshing fairly effortlessly on a series of compact tunes in a variety of modes. The results are compositional and swinging, abstract and occasionally blisteringly dissonant.
"Birth" begins with a fairly decorous prelude before steadily ratcheting up the tension throughout a series of shifting sections. Toward the end, Braxton unleashes gales of noise and then reins himself in, only to return with an even more intense assault. Roach keeps the beat jumping, ducking behind and galloping ahead. Along the way, he adds some almost melodic percussive surges that are so unusual they briefly make you hear Braxton's playing with new ears. A killer track. The two met again for One in Two, Two in One – a continuous and joyfully unfettered improv that lasts almost 80 minutes. Recorded at Willisau in 1979, it's recently been reissued by hatHUT and well worth seeking out.
* * * * * * * * *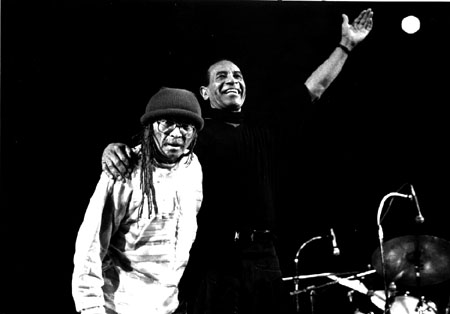 All of which brings us to Max's legendary duets with Cecil Taylor. Now it's obviously a bit simplistic and even insulting to think of Roach's amazing duets with Shepp and Braxton (and Dollar Brand) in the Seventies as an extended warm-up for this performance with Taylor. But the resulting music was so awe inspiring, telepathic, and utterly adventurous we have to admit that's sometimes how it seems to us.

Recently, we discovered Max Roach saw it this way himself. Partly. Speaking of his esteemed duet partners from the Seventies, he said: "But the one with Cecil was the one I looked forward to. That one was on my mind all the time. I've known Cecil and always said hello and I'd say 'Cecil, I hope someday we'll do something together.' And he'd say, 'Well, I'm looking forward to it.' He used to play drums. And my first instrument was piano, gospel piano in a church!"


So here's a 12-minute excerpt from the December 15, 1979, meeting of the most melodic of drummers and most percussive of pianists. Former drummer Stanley Crouch astutely noted at the time: "Roach, probably alone of his generation, was able to embrace the conception that Cecil Taylor's style demands. He craftily found holes where other drummers hadn't, was able to rearrange a Taylor statement or contrast it with a traditional figure or rhythm, and manipulate dynamics like a master who make a yo-yo sleep, rock, swing, twirl or what have you."


As for Taylor, Crouch said: "Taylor's playing was as happy as I've heard it. His technique has gone to another level now and he is not only able to play with more power and speed than I have heard from any pianist of any discipline, he is able to say more because his precision of touch is greater." Amen. We'd only mention that in the second half of this excerpt note how Max barely if ever touches the cymbals so it creates a kind of crazy tension, while also letting Cecil's flighty high notes come through cleanly.


There was a second duet twenty years later, also at Columbia University, which if anything was even more fiery and intense. But more on that later.
* * * * * * * * * *
Other notable links, with music:
-Locust St.
-ANABlog
-The Bad Plus blog highlights some key moments
-DJA has the rest, including a chunk of The Freedom Suite
And on the extended play tip, Roach Radio:
-WKCR is broadcasting a week-long memorial, through next Wednesday
-Friend of D:O Doug Schulkind featured a living tribute to Roach back in May on his WFMU program Give the Drummer Some ("Love Piece"!). Doug gave some more on today's show, entirely devoted to Roach's work, including a 1988 interview he did with the drum master. Those seeking "Mendacity" and a taste of the Shepp/Roach/So. Africa hit will find what they're looking for here. (And here's to more living tributes…)
* * * * * * * * *