OUR 2007 CHILL OUT SPECIAL

SOLO
Bill Dixon
Considerations 1: 1972-1976
Fore : 1980
BD, trumpet.
There's too much. Too much music, film, books, art. Keeping up these days is practically an Olympic sport. We find ourselves rabidly downloading, listening, reading, and viewing the latest greatest — pausing ever-so-briefly to consider it — and then rushing on to the next shiny geegaw. It was fun for a while but now an almost automatic mania for novelty has set in. We crave more, more, more. And sadly we find ourselves in danger of becoming mere collectors, losing any chance for contemplative appreciation in favor of the general response: "yeah, I got that."
So although it's "best of" season here in Webville — and we love a good list as much as anyone — we're taking a small step back from the hype cycle and refraining from the celebrating the ceaseless shocks of the new. Instead, we're offering some thoughts on our favorite things discovered in 2007 but not necessarily of 2007. Because the process of discovery isn't limited to items released during the current year. And while there's a thrill to experiencing the most recent art-ifacts in medias res, some of the most radical and exciting pieces still live comfortably in the past.
Plus, it's not as though 2007 isn't being represented elsewhere. One of the things that are so ultimately stultifying about best-of lists is how many of them tend to converge on the same few items. Do we need another publication telling us that Denis Johnson's Tree of Smoke is the best of the year? We get it. Not that there's anything wrong with consensus. It's just that since one of the main projects here at D:O is trying to make sure the possibly overlooked doesn't become the definitively forgotten, we figured we'd extend that thinking to the lists below. Which is to say: we liked a lot of other things, too, most of which you already know about.
D:O's Top Sevens of 2007
CHILLY JAY CHILL
SUN RA REISSUES
Even though I was well familiar with Strange Strings and Disco 3000, hearing the robustly remastered reissues from Atavistic and Art Yard made them new. And somehow I'd overlooked the deliriously slinky The Night of the Purple Moon. Sometimes it's easy to take giants like Ra for granted, but these had me marveling all over again.
ABSTRACTIONS OF THE INDUSTRIAL NORTH by Basil Kirchin
Kirchin's lovely Abstractions fall between the cracks: Free jazz, big band, folk melodies, minimalist serialism, and exotica kitsch. These endless evocative jazzy tunelets remind me of the Ghost Box aesthetic as well – another find this year. Plus Broadcast's Tender Buttons. To better locate Kirchin's aesthetic: One track here features both Jimmy Page and Evan Parker.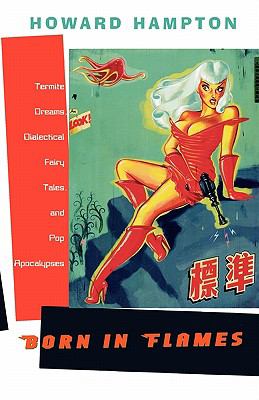 BORN IN FLAMES by Howard Hampton
Dest:Out readers should check this out for the illuminating essays on Braxton, Shipp, Parker, Derek Bailey, etc. But Hampton goes far beyond jazz, finding links between Buffy the Vampire Slayer and D. H. Lawrence, Seijin Suzuki and Sleater-Kinney, Pere Ubu and Performance. A handbook in the aesthetics of displacement by the heir to Lester Bangs and Greil Marcus. So good you'll break into a cold sweat.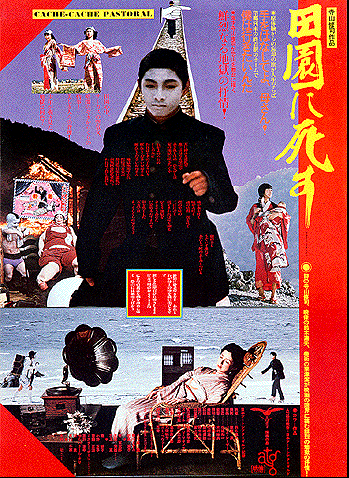 PASTORAL: TO DIE IN COUNTRY by Shuji Terayama
I was brought to my knees this year by the discovery of Japanese New Wave cinema of the 1960s. Terayama, who's best known for the scandalous short "Emperor Tomato Ketchup," made my fave film of the entire genre, the candy-colored, freak-flaked, eye-popping Pastoral. Also recommended: Funeral Parade of Roses, Eros + Massacre, Ecstasy of the Angels. Interestingly, there seems to be direct overlap with the Japrock recently chronicled by Julian Cope and the Shinjuku free jazz scene. More on this later.
Z CHANNEL: A MAGIFICENT OBSESSION
Xan Cassavettes' brilliant documentary is a must-see for any wannabe cinephile. Disturbing but ultimately affirming story of how curating can be its own artform. In the 1970s, Z Channel took art films that many people deemed rarified and presented them to the public as fun, sexy, and an integral part of life. Forget academia and making people feel they need to eat their vegetables. To borrow Richard Foreman's rallying cry: "Elite art for the masses!"
EPITAPH OF A SMALL WINNER by Machado de Assis
Marvelously funny novel written in bite-size sections by an epileptic Brazilian in the 1880s. And it feels more modern than most things you'll pick up today. The narrator affably recounts his life from beyond the grave, chasing digressions and casually ripping asunder every cliche and received idea that tumbles across his path. Susan Sontag deemed Machado the greatest South American writer, but this book is also immediate and intimate, wearing its genius lightly.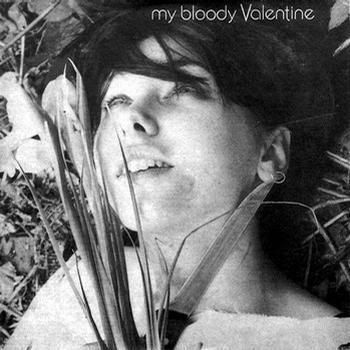 YOU MADE ME REALISE by My Bloody Valentine
It took me years to fully grok Loveless, but this 1988 E.P. smacked me sideways on first listen. It's more concise and tuneful, but covers a staggering amount of sonic and emotional terrain in a short time. Five perfect songs, not a duff note. Fingers crossed for the reunion.

PROF. DREW LeDREW
FUN HOME by Alison Bechdel
A graphic memoir of considerable emotional depth, and plainspoken narrative drive. My main thought after reading this was that it was incredibly fortunate that this life happened to this author, because no one else could have depicted this story nearly as well. If that makes any sense. No Iggy references to be found within, but plenty of drama. And antiques.
COLTRANE: THE STORY OF A SOUND by Ben Ratliff
Alex Ross' The Rest Is Noise is raking in much-deserved accolades this holiday season, but it would be a mistake to sleep on Ratliff's really splendid take on Trane. Though it may be hard to get excited about another book on the tenor legend, Ratliff's blend of musicological insight and cultural synthesis does what Coltrane himself did: make the familiar sound new again.
SOUTH AFRICAN EX-PAT JAZZ
Dudu, Dyani, Dollar. Moholo, Mongezi, McGregor. Somewhat aware of the collected body of work by these gentlemen and others before, I made 2007 an immersion year. Song for Biko, Witchdoctor's Son, In the Townships, Brotherhood of Breath, Flute Music, Mbaqanga Songs…. Bouyant, melodic, astringent when called for, this stuff offers as plausible an answer as any to the question: if you could only listen to one kind of music for the rest of your life, what would it be?
JOHN CARTER'S ROOTS AND FOLKLORE SERIES
We've written about this elsewhere, but it bears repeating, and only fully dawned on me this year: this is good shit. All five records offer immense pleasures. It remains obscure why this series, much lauded in its day, has resisted becoming a significant monument in modern jazz. Perhaps it's just the unfortunate current obscurity of the records themselves? Anyway, major props to Steve Smith for assisting with my appreciation.
THE MIERNIK DOSSIER by Charles McCarry
A spy novel in the form of field reports from CIA agents, intercepted telegrams, laundry lists, wiretapped conversations, covertly acquired diary entries, set in Europe and North Africa. Nothing splashy, but the accumlated narratives add up to a smashing good read, dryly accented by agent Paul Christopher's aversion to moralizing. Not to be confused with The Metterling Lists.
DOG SOLDIERS by Robert Stone
I reread this this year, with vague memories of having enjoyed it, but no real recall of the plot or fine-grain details. As a portrait of the US on the brink of total psychotic breakdown, it holds up tremendously well, with Stone's early 70s druggy vibe inducing the cold clammies and lightheadedness of a contact high. Having recently read Stone's memoir Prime Green, and finding some similarities between his life and this book, it's scary to ponder the degree to which Dog Soliders mirrors his actual experiences. If this post-Vietnam novel has anything to say about our current condition, we are in for a world of pain.
"Finer Feelings" by Spoon
The song I listened to more times than anything else this year, almost certainly. Though Ga Ga Ga Ga Ga will get (and has gotten) its share of "best of" nods, I'm breaking our own self-imposed conditions here to perhaps point out the obvious: a great pop song, with Commerical Appeal. When is that not worth highlighting?
* * *
OURS FOR YOURS: What are your favorite (re)discoveries from this year? Favorite new jazz records? Favorite whatever type of music? Things from 2007 very much included. We'd love to know.