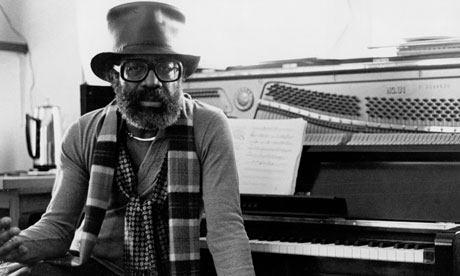 Bill Dixon's one and only FMP album, recorded in November 1999, at a celebration marking the 10th anniversary of the fall of the Berlin Wall. Here is Dixon at his dubby best, exploring all the sonic possibilities of his instrument — and of the moment. The two-bass line-up matches that of several superb Dixon discs — November 1981, and the two Vade Mecum Soul Notes — though it's very much the Dixon/Oxley show. The strings provide the parentheses while percussionist Tony Oxley, in Brian Olewnick's phrase, is "as unobtrusive and essential as a floor." Dixon occupies center stage.
As All About Jazz noted in reviewing the album, "the three pieces unfold with a great sense of purpose; what is even more remarkable is their profound grace, their transparency. It is music which invents itself moment-by-moment, with remarkable clarity." Grace, clarity, purpose…if these are adjectives that you are interested in attaching to your sonic world, please do give Berlin Abbozzi a try.
And while we're pitching Dixon, may we remind you of two other recent releases: the glorious reissue of Intents and Purposes and likely the last recording of Dixon's life, Envoi.