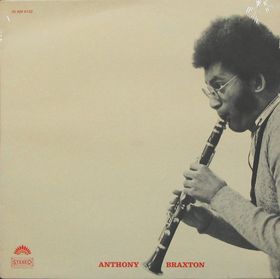 YOU GO TO MY HEAD (Part 1)
COMP. 23K
Anthony Braxton
Donna Lee
America : 1975
AB, alto; Michael Smith, piano; Peter Warren, bass; Oliver Johnson, drums.
Brooklyn is suffering something of a Braxton hangover, after the rousing four-day festival of shows at the newly opened Roulette last week. We figured some hair of the dog might get us all through.
While many would argue Braxton's music reached full bloom later in his career, there are some wonderful early recordings that haven't been given the attention they deserve. One gem that you might have overlooked is Donna Lee, recorded in 1972, and released by America in 1975.
It contains a two-part version of the standard "You Go To My Head," which has been covered by everyone from Marlene Dietrich and Billie Holiday to Louis Armstrong and Lee Morgan to Bryan Ferry and Rufus Wainwright. Braxton has often been criticized for his, let's say, uneven interpretations of various jazz classics over the years. But we dare anyone to defy the brilliance of his interpretation of this hallowed chestnut.
His version starts out faithfully, with the band patiently and almost imperceptibly building the song into something denser and more abstract, as Braxton's sax single-mindedly mines the melody for variations. It eventually boils over into a controlled cacophony – you can feel the tune going to Brax's head without his ever quite losing "the head." Toward the end, a walking bassline tethers the song to a more recognizable semblance of its original form, but Braxton refuses to completely abandon the accrued abstraction and acceleration.
His own Comp. 23K features a stately horn line pitted against some unsettling rumbling created by the rhythm section. It evokes for us images of someone patiently navigating their way through a haunted house. Give this short tune a few spins – it's eerie and indelible.
TELL US IN THE COMMENTS: What's your favorite Braxton album? Or period of his music? Or highlights of the just-concluded Roulette run of shows?