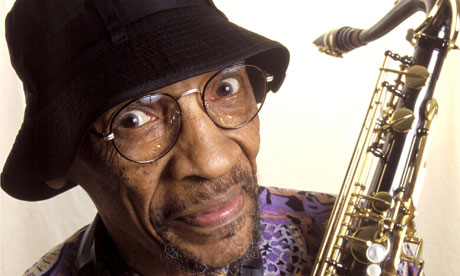 We were deeply saddened to hear about the passing of the great Sam Rivers. That last name is as right as rain — his talents were so varied, multifarious, they were like streams that fed into the greater ocean of jazz. Best known as a great saxophonist equally adept at the tenor and soprano, he was also a remarkable flutist and pianist, who quietly put his stamp on both instruments.
As anyone who has seen Rivers live can attest, he was an astonishing improviser who could instantly summon pieces that were both dramatic and affecting, wrought in the furnace of the moment. He was also a great composer who wrote sheaves of memorable riffs and melodies. He was known for his fiery small group work, but he was also one of the greatest big band leaders of the last 50 years, whose RivBea Orchestra generated a book of tunes that should prove invaluable to bands over the next 50 years.
It's not the amount of music he left, but its sheer quality. We are sharing barely a sampling from his extensive career – including a few high quality rarities courtesy of George Scala. Of course, we can only represent a fraction of Rivers's achievement and encourage you to check out more elsewhere. One good place is his first and only solo album — which showcases him on all instruments — available at the FMP download store. Also coming soon to the store, Rivers' live duet with Alexander von Schlippenbach, Tangens.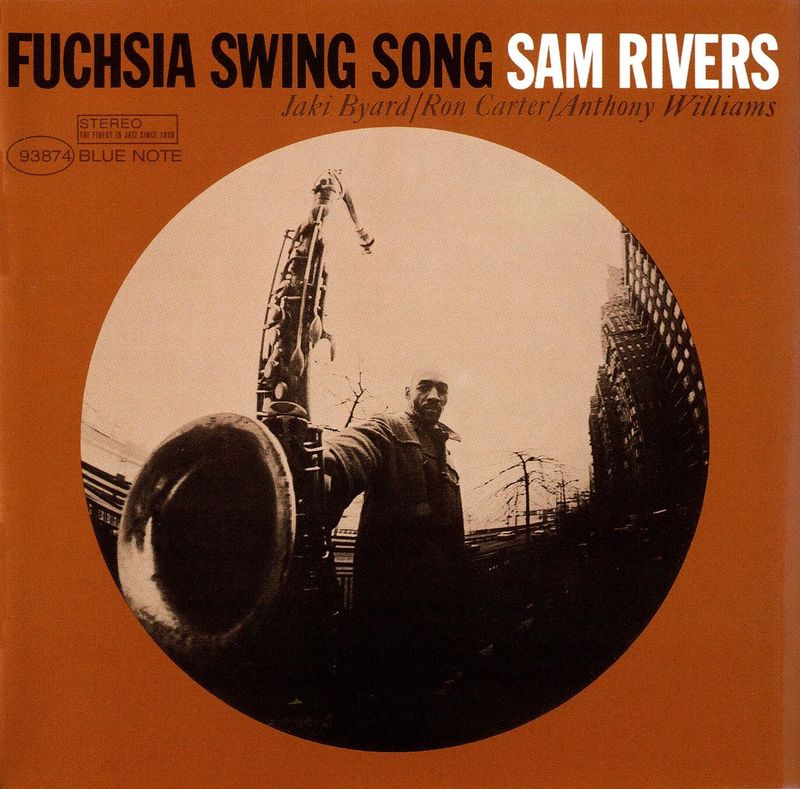 BEATRICE
Sam Rivers
Fuchsia Swing Song
Blue Note : 1964
SR, tenor; Jaki Byard, piano; Ron Carter, bass; Tony Williams, drums.
Notably, Sam Rivers wasn't some wunderkind who came blazing out of the gate. Like the great Argentinian writer Julio Cortazar, he dutifully worked on his craft and bided his time until he had something significant to say – then burst on the scene seemingly fully formed, with every public musical gesture carrying artistic weight. His trio of albums as a leader for Blue Note are remarkably assured – tapping into the tradition while assuredly pushing it forward, his solo voice already evident. Many assumed he was some young turk, but Rivers was 40 by the time he recorded his first album.

His standard and probably most famous tune is "Beatrice." It comes from his Blue Note debut and is named for his wife, who remained his partner for the rest of his life. For those who don't know Sam Rivers, it's a fine place to make his introduction.
His remarkable career intersected with the mainstream, but Rivers ultimately carved out his own route. He studied at the Boston Conservatory, where he met Quincey Jones and worked with Jaki Byard and Charlie Mariano. He accompanied both T-Bone Walker and Billie Holiday on tours. Then, on the recommendation of Tony Williams, he was briefly part of Miles Davis's great quintet. That gig remains an intriguing "what if" in jazz history.
The story goes that Rivers's fearsomely avant solos from the quintet's 1964 Japan tour freaked out Miles – who sacked him soon thereafter. Apparently, the real deal is that Miles dug what Sam was doing but everyone knew he was biding his time, waiting for Wayne Shorter to leave Art Blakey. Which is exactly what happened. There are a few fascinating documents of this free-er version of the quintet around, including the formerly scarce Live in Tokyo and some boots from the other two nights in Japan.
Rivers then played for several years with Cecil Taylor's group before dedicating more time to his own music. Streams, Sizzle, Hues, Contours — during the 1970s, Rivers had a remarkable run on Impulse!, much of which has remained stubbornly out of print and never received its due. We've posted some of that material here over the years. It was mostly scorching small groups with folks like Dave Holland and Barry Altschul — but also his finest big band work Crystals, an album that stands tall alongside the best Duke Ellington and Charles Mingus's Black Saint and the Sinner Lady.
KING KORN
Barry Altschul
You Can't Name Your Own Tune
Muse : 1977
BA, drums;  SR, tenor sax; George Lewis, trombone; Muhal Richard Abrams, piano; Dave Holland, bass.
But instead of one of his gigs as a leader from this period, here's a track from an augmented group with longtime collaborators Holland and Altschul — rounded out by Muhal Richard Abrams and George Lewis. It's a barnstorming collaboration on Carla Bley's "King Korn," a tune that was repeatedly visited by Paul Bley in various groups, including his electric trio "Scorpio" with the ever-present Holland and Altschul. No Bley performance of  "King Korn" ever got the romping treatment it receives here, though, as the climbing theme is quickly cast away in favor of burning group interplay. A fascinating meeting of AACMers (who seldom cover others' tunes) and Rivers' great '70s trio.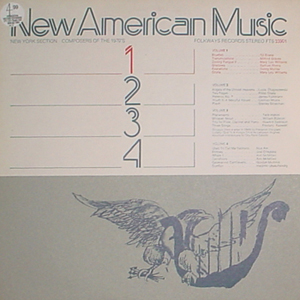 SHADOWS
Sam Rivers
New American Music, Vol 1: New York Section, Composers of the 1970s
Folkways Records : 1975
SR, tenor sax, flute, soprano sax, and synth.
Rivers was starting to get more respect for his compositional prowess as well. He was handpicked by someone with excellent taste at the Smithsonian for their New American Music series – alongside Gil Evans, Mary Lou Williams, Milford Graves, and Sonny Murray. He was represented by the remarkable complex and stirring composition "Shadows," which he created sometime in the early 1970s via overdubs. He wrote the following about his philosophy at the time:
"As a composer, instrumentalist and listener I am in the extremely fortunate position of being totally immersed in American music but primarily the feeling. As a fourth generation black American musician– with many teachers, quite a few Methodist and Baptist Ministers, my music is instinctual. My activity has been varied and I find myself often playing viola with a string quartet in the afternoon and with a blues band in the evening. It has been important for me to do this as part of my drive to find out as much as I can the way music is, what music is, why music is.
"Since the late fifties with the advent of 'freeform' in jazz (with its origins in black music) music has been revitalized by spontaneous improvisation– to have no pre-conceived plan of complex harmonies, intricate rhythms and technically difficult melodic lines– improvisation to make every performance different, to let your emotions and musical ideas direct the course of the music, to let the sound of the music set up its own impetus, to remember what has been stated so that repetition is intentional, to be responsive to myriads of color, polyrhythms, rise and fall, ebb and flow, thematic variations, etc., etc…."
ORCHESTRAL SUITE [excerpt]
Sam Rivers RivBea Orchestra
Live at the Public Theater
NPR Jazz Alive Broadcast : 1979
SR, reeds; Hamiet Bluiett, Steve Coleman, Ron Bridgewater, Jimmy Vass, John Stubblefield, Lee Rozie, John Purcell, James Ware, James Stewart, reeds; Ted Daniel, Frank Gordon, OIiver Beener, Jack Walrath, trumpets; George Lewis, Ray Anderson, Charles Deffinitz, Richard Harper, trombones; Vincent Chancey, John Clark, Greg Williams, french horns; Abdul Wadud, Pat Dixon, Muneer Abdul Fatah, cellos; Bob Stewart, Joe, Daley, tubas; Dave Holland, bass; Thurman Barker, Warren Smith, percussion. 
As commercial venues in the U.S. for acoustic jazz grew scarce, Rivers was on the forefront of the Loft Jazz movement, forming the renowned RivBea Studio in his loft in the Soho neighborhood of New York. He sponsored shows by other artists and had a profound impact on the scene, helping not only to keep the music  alive during a perilous time but nurturing the next wave of important jazz musicians.
Starting at this time, he founded his important RivBea Orchestra. Due to cost of recording them in the studio, his efforts from this period have been woefully under-represented in his discography. This rare 30-minute track captures a massive version of the orchestra in full flight in a show at NYC's Public Theater – showing the full range of the band's mighty musical capabilities.
EVOCATION SUITE, PART 2
Sam River's [sic] RivBea Orchestra
JazzbuhneBerlin 1982, Vol.10
Repertoire : 1990
SR, sax, flute, piano; Patience Higgins, baritone sax, flute; Jack Walrath, trumpet; Oliver Beener, trumpet; Vincent Chancey, french horn; Dick Griffin, trombone; Robin Eubanks, trombone; Doug Purviance, trombone; Anthony Cox, bass; Eli Fountain, drums.
This RivBea Orchestra track was recorded live in Berlin in 1982, as part of thriving German concert series during that time. We've selected this particular number for its emphasis on Rivers's underrated piano abilities. He plays a long keyboard solo to open the 12-minute number, before the orchestra kicks in behind him.
TRACK 1
WARM Quartet
Terni Jazz Festival
2005.06.25
SR, Roscoe Mitchell, reeds; Reggie Workman, bass; Pheeroan akLaff, drums.
In 2001, Jason Moran tapped Rivers to join his trio for Black Stars. Moran saw including his idol and influential elder statesman as a sort of statement of final exam away from apprenticeship and a statement of artistic maturity. This wonderful album is all that and much more. In fact, to date it's still Moran's best work. The live shows they did together were pretty hot as well.
However, the late period Rivers group that generated the most fire on the bandstand was unquestionably WARM – a "super group" quartet of sorts — with Roscoe Mitchell, Reggie Workman, and Pheeroan akLaff. The band was unfortunately short-lived, but it burned bright. Their show at the 2005 Vision Festival was the highlight of that series and they virtually obliterated fellow bands that were a fraction their age.
WARM covered a wide range of material, fluidly segueing between different moods and modes, all the while erasing the line between complex composition and fiery improv. We're pleased to share a track from a gig in Italy later the same year, recorded for broadcast (and supplied via a generous blogger, who got it originally from Dime). This track finds the band in uptempo mode — dueling and complimentary sax lines, clanging beats, and probing bass. It's nothing less than shit hot.
Given the silence that met Mosaic's recent three disc set of his most recent big band recordings — a major recording for any year — we'd say Sam Rivers is still underrated. Hopefully that will begin to change. (A rumored Mosaic set on unreleased RivBea Studio recordings wouldn't hurt any…)
Here are some links to fuel your further reading:
>  It gets no more comprehensive and constructive than the Rick Lopez Sessionography
> For a great aural review, including some real rarities, there's Scott McDowell's Long Rally Rivers radio tribute (D:O Radio will air it's own Rivers remembrance on Monday, 16 Jan.)
> Ted Panken's extensive interviews provide an invaluable close-hand look
> The indefatigable interviewer Jason Crane had Mr. Rivers on his Jazz Session in late 2009
> Always on point, Ethan Iverson remembers Rivers, in particular his Blue Note work
> Hank Shteamer took two heart-felt posts to spell out his take on Rivers' legacy and work
We'll leave you with this footage from 1998 of Rivers running a rehearsal for his orchestra, as Beatrice looks on. You can practically see the music rise up off of him in waves: