Happy 70th Birthday, Barry Altschul
We at D:O are incredibly pleased to present this guest post from Harris Eisenstadt. Harris interviewed Barry Altschul over two marathon sessions, on the occasion of his 70th birthday (which was in fact yesterday, 6 January) and in advance of his new trio record, coming out in February from TUM (preview tracks below!). This is the first of several parts. Take it away, Harris…
& & & & &
Barry Altschul was my first "serious" teacher. That is, he was the first person I studied with once I realized that becoming a jazz drummer was going to be my life's work (realizing that I wanted to compose and lead groups in addition to playing came a few years later). I met him when I first lived in New York between 1996-1998.  I found my way to him through an early addition of the Penguin Guide to Jazz ("on Record and Cassette," as the cover said at the time). Brian Morton and Richard Cook wrote about Altschul's prodigious ability to play the most textural, sound-painterly, extended percussion-palette coloristic drumming that could switch on a dime to deeply melodic, swinging, urgent, insistent time playing.
Like many, I heard him first on Dave Holland's seminal Conference of the Birds, then found my way to his work with the Chick Corea trio, then Circle, then the Paul Bley Trios, then the Anthony Braxton Quartets, then the Sam Rivers Trio, and on and on. I spent the spring semester of my junior year in 1997 as a visiting student at the New School, and made it a point to go out and hear music pretty much every night for about six months. I had already been listening to Barry, but never saw his name in the Village Voice concert listings. Then one day I saw that he was playing a solo concert at the Internet Café, a tiny spot on East 3d street that always had great music, usually for $5 per set. I took my girlfriend who was visiting from Boston and got Barry's card. I called him up and took weekly lessons with him off and on for a couple years.
At the time I was just starting to get my technique together as well as my concept. Barry's early lesson that "concept stimulates technique, not vice versa" made a huge impression. He had a page of about a dozen things that he had his students to do, from the most conceptual ("play a sound, play another sound") to the most mechanical (one page each per day from each technique book that I was working out of). I was taken with how traditional an approach he emphasized along with how much he emphasized freedom "to," rather than freedom "from." I was taken with the expression he liked to cite (which he credits to Beaver Harris), "from ragtime to no time." Rather than study jazz drums in a bebop-hard bop vacuum, instead it made perfect sense to try and internalize what the earliest trap drummers did, through the 1940s and 1950s and on into the post-bop drummers, free drummers, fusion drummers, all the way to the present. I was also taken by how Barry augmented his drumset by incorporating percussion instruments and sound sources from all over the world.
I studied briefly with Gerry Hemingway soon after and I remember him saying they referred to Barry in the late 1970s/early 1980s as "the cash register." Barry had a constantly evolving imagination as an improviser, and I made connections between what he did and what creative drummers generations later did who I was just hearing, like Jim Black, Michael Sarin, Kenny Wollesen, and John Hollenbeck. I fell out of touch with Barry for some years after. I headed out to Cal Arts, learned a lot from great friends/mentors/employers like Wadada Leo Smith, Adam Rudolph, Vinny Golia, Alex Cline, became deeply enamored with contemporary classical music and West African Music and Dance, and eventually went to Africa to study traditional drumming.  
When I moved back to New York in 2005 I briefly curated (I think it lasted three months) a weekly series at a venue in Williamsburg. One of those months I got back in touch with Barry to see if he wanted to bring a group.  Since then we've been in touch periodically and it's been great to re-connect. I'd been talking with Destination: Out about doing a guest post, and it seemed like the perfect opportunity to profile Barry and pick his brain in greater detail. During that first year studying with him, I was still torn between wanting to be a writer and wanting to be a musician. I interviewed drummers at the time with the thought of collecting a bunch of interviews and turning them into a book. I interviewed Barry, Tony Oxley, Gerry Hemingway, Jim Black, Michael Sarin, and Gregg Bendian. I meant to interview more, but sometime during those years my interest in writing prose was overtaken by an interest in writing music along with practicing the drums.
It's been a pleasure to resurrect this process with Barry and ask a lot of the questions I meant to ask back then. And even though these interviews really just scratch the surface of his more than 50-year kaleidoscopic and influential career, I hope for D:O readers that our conversations bring some new information to light. Thanks Barry for these illuminating and enjoyable conversations. Happy 70th birthday!
Interview – Part I (August 30, 2012)
Harris Eisenstadt: Can you talk about the kind of drummer-as-leader models that bands like Art Blakey's Jazz Messengers had?
Barry Atschul: (His band was like that) because he didn't write… he had musical directors, so did Elvin. Max wrote… even Roy had musical directors… for these guys it was based pretty much around the standard repertoire or whatever the musicians in the band brought into play. They played around the standard setup, which was piano, bass, drums, trumpet, saxophone; everybody solos, drums solo or split fours or whatever it was, and that was the routine.
So then what drummer/leaders in the 1970s took a different approach?
Well, I don't know if they took a different approach. Jack (DeJohnette) had a band and he wrote for the band. I had a band and I wrote for the band. Billy Cobham had a band after Mahavishnu. And everybody kind of built there own bands out of their musical concepts, allowing for the concept of the cats that came into the band as well wanting to make a statement in a genre of music they felt best in.
So what prompted you to want do that in the first place?
I was offered a couple of record dates.
It just went that way? Like, instead of sitting there in Sam's band and deciding to strike out someone just said, "How about we do a record of your music?" That's where You Can't Name Your Own Tune came from?
Yeah. It was a two-record contract.
From Michael Cuscuna?
Well, Michael Cuscuna is a very close friend of mine. For ten years, he was looking for a record date for me; from 1968-1978. Really, we talked about doing a date before he was a big-time producer. He was writing for a magazine called Jazz & Pop. I still have the article somewhere where we talked about doing a record date, but then the actual date came ten years later. It's all written about in the liner notes to You Can't Name Your Own Tune.
Were you writing in 1968?
No, I wasn't writing anything until the record date. The guys in Circle pushed me to write and I really didn't. But when I got the record date I said, "Okay, I'm gonna sit down and write." So that's when I wrote my first compositions.
If you had had a record date in 1968 what would the music have been like?
I think I wanted to use someone like Randy Brecker, Karl Berger, maybe (Eddie) Gomez or (Dave) Holland. I would guess kind of a freebop-ish session… that's what I wanted to do.
You would have written some small heads for blowing?
Probably, but later I wrote some tunes that I wrote as a contribution to the American standard tune. You know, a standard tune that has words. I was never really looking to write avant-garde or to write free. I wrote the music I heard. Joe Fields from Muse offered me those two record dates.
And that was You Can't Name Your Own Tune and…
YOU CAN'T NAME YOUR OWN TUNE
Barry Altschul
You Can't Name Your Own Tune
Muse : 1977
 BA, drums; George Lewis, trombone; Sam Rivers, tenor & soprano sax; Muhal Richard Abrams, piano; Dave Holland, bass.
…Another Time Another Place.
And there was no trouble finding work right way? Or that band didn't work?
That band was an all-star band and didn't work. We had a couple of gigs to warm-up up for the record date. One was at Sam's loft and the other was at Fischer's loft. Environ or something like that. We did a couple of little gigs before the record date. First we rehearsed at my house, then we did a couple gigs to see how we could play with the music in performance.
Where did you record?
Richard Alderson's… Rosebud.
One-day session?
Six hours.
Remember the session going real easy?
Very.
You'd been playing with these guys a bunch…
It wasn't just that. I was also the least astute musically of the group. I mean, here you got Sam Rivers, a great composer, Muhal Richard Abrams, you know, George Lewis, a motherfucker at 21, and Dave Holland, these are my first compositions, and they were beautiful to me, they showed me all the respect in the world, there was no bad vibe at all, the date went down smooth, no problems whatsoever.
But that quintet never worked?
No, it was record date.
Would you have liked that band to work? Was it feasible?
No, it wasn't feasible.
Then Brahma (with Ray Anderson and Mark Helias) came a few years later. Was the impetus for writing for Brahma like "I want to write" or was it "I want to have a trio" or…?
No, man, I'm not a composer. I compose to play. I'm a drummer, man. All I want to do is play. So any music I write, or that I thought about writing, or that I contribute to a band, was to stimulate a playing attitude, someplace to have fun in, to maybe be interesting, to be challenging, but I do not try to make a mark as a composer. I mean, all the tunes are for the fun of playing.
Is that part of why you didn't record a band for twenty-four years?
Well I didn't lead a band either. I would have rather been a sideman, play a lot of people's music. I was never really a "sideman" sideman, it was always like I was part of the group, and I was able to contribute music to most of the bands, and I didn't have any of the headaches of a bandleader, and I didn't lose money because it was "this is what I'm getting," and people that I worked with paid me what I expected. I know that as a bandleader I was always taking a loss from doing this and doing that, and it was just so much easier. But now it seems that there's another thing happening, and I just might start again. I'm just real happy some of the younger guys are calling me to play with them. I really feel good about my playing, I'm really relaxed, I'm really having fun, and I feel on top of my game now.
Is the impetus to lead a band now a similar thing to before? TUM (the Finnish record label) said "you want to do some stuff" and you said "sure"?
Well, I mean, my impetus to lead a band is to get more gigs, to have more situations to play. I mean if I got a gig that says you know, we got thirty-five weeks on the road a year, and we're playing this music that I like, I'd take it in a minute.
So to continue that question from before I was wondering about, whether it's Roy or Jack or Max or Art Blakey or Elvin, those kind of concepts that people had as drummer/leader/composers, how do you see the climate for drummer/leaders now?
Great. Now drummers are not considered "…and the drummer," you know, they're like musicians in the band, a lot of drummers have music degrees and most nowadays are composers, so it's another thing. And by being composers, they're also approaching their drumming in a more musical way, a more melodic way, let's say.
When people ask me about drummer/leader stuff I very often say I can't help but write from the perspective of a drummer. Just like a saxophone player writes tunes – even if they don't mean to – it's from their identity, and their identity is partly that they're a saxophonist. Do you think being a drummer that inevitably seeps into your composing?
Maybe rhythmically sometimes. But no, I don't think that. I think melodically. I grew up with melody, harmony, and rhythm. There was nothing free when I grew up. The free-est shit was Stravinsky or Ravel or something like that that had nothing to do with jazz. So I grew up with the great melodists, and the lines that all these cats improvised, and so when I sit down to write that's what I'm thinking of. I'm thinking of the melody, and I naturally, like I say, when I'm talking about the drums, I feel rhythm is inherent in the drums. I don't have to think rhythm. Everything I play will be a rhythm. So I put notes to the concept in my mind.  Therefore I say I think melodically, and the rhythms that are there are there and that's what I write. I wrote a tune that you haven't heard yet. It's a five, but it's broken down. It actually comes to a thirteen against five, and its' a thing I got from Africa, so that was a rhythmic-driven concept.
As in there was some kind of bass vamp? Or there was a drum rhythm?
Yeah, there was an actual rhythm that I wanted to play. It was played by all of us at the beginning of the tune.
Which tune is that?
"Oops" (track 4 on Barry's new trio record)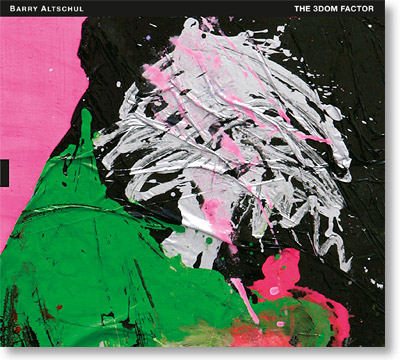 OOPS
Barry Altschul
The 3dom Factor
TUM : 2013
BA, drums; Jon Irabagon, tenor sax; Joe Fonda, bass.
Do you remember what particular rhythm, where it was from?
Yeah, it came from Mali.
Was it a Dogon rhythm or something?
No, I have it written down somewhere. Anyways, the actual rhythm wasn't the rhythm that I wrote, because I didn't actually remember it, but I was inspired by this particular rhythm, and it was the rhythm of a camel's gait.
That you rode on?
No, it was a rhythm they played, and we asked them where they got it.
Do you remember, is it played on a calabash?
It's played on a calabash, yeah.
Ok… we've talked about melody, about rhythm, what about a harmonic concept? Does your writing come out of a jazz harmony thing? A rhythm changes thing sometimes, or…?
A lot of my harmony things are not based off of the changes of something else. Some of it will have like ten bars in the bridge and maybe six bars in the head or something. No, what I do is, I play, I guess it's fourths or sevenths or something on the piano against the melody that I'm playing, and I ask this piano player friend of mine "play me a bunch of chords to this thing against this melody and I'll say "I like that one" and "I like that one." That's how I do it, because I don't have the technical ability to say this is a C-7 with a flat13 or something like that. I can't do that.
The intervallic thing is one thing, but the actual spelling…
The actual chords and what I want to hear… because I don't necessarily want to hear what I'm playing in the bass. I might want to hear something more lush or more modern or something and so I have various people that I ask to play a bunch of chords against this and that and I'll say, "Oh, I like this one… what's that?"
So melody comes first.
Yeah, melody comes first. Well, melody and rhythm are pretty much together for me.
I remember you talking about, in France, writing for big band there. Was it a similar concept: "Here's a melodic/rhythmic concept and let's have someone arrange this for big band with me"?
Ah, yes. It was done on the telephone. I was in Paris and the arranger was Coleridge, well, he was the orchestrator actually.
This is circa early 80s?
No, late 80s. This was Coleridge Taylor Perkinson, the great American composer. He was a very close friend of mine. So I told him, "I got this big band man, I can pay you for the arrangements no problem and we can do it on the telephone, they're paying for the phone cost."
Paris to New York?
Yeah. So I sat with my electric piano – this was before Skype – and he sat at his piano, and the tunes were written.
The melodies were written?
The tunes were written. Everything was already written when I gave him the music. I said "ok, let's see what we could do with this. Why don't we take this section and do this with it. Why don't we just leave the tune and go into this kind of a thing," and so I helped arrange it, but he did the notes, he did the orchestrations. I'd say, you know, "repeat that rhythm, over and over again for so many times, and let's put it against a 5/4 thing."
A program of big band music, or one piece, or…?
I contributed three pieces to the big band.
What big band was it?
It was the regional big band of Nancy.
SATARUMBARENGUE
Barry Altschul/Francois Mecheli Regional Big Band of Nancy
comp. Altschul, orch. Coleridge Taylor Perkinson, arr. Altschul/Perkinson.
And that music was performed?
Yeah, a lot. Those pieces were performed and my partner's works, as well. There were two artistic directors. One was me and the other was French, and that was great because of the language and all that shit, Francois Micheli, a great bassist.
Did you play on the gigs?
Only on one tune, just as part of the show.
Is that the only time where you worked with a big band in that context, where you were commissioned as the composer?
Yes.
Have you written any large ensemble music?
No, but they've taken some of my music and have done things with it.  Not that big band… a ballet, some dancers, have taken my music and have expanded it and danced to it and shit. In France, Italy, and Germany…
So to bring it around to the new record, Petri at TUM said, "I'm interested in recording you." How did you meet and this new record come about?
I did something for him with the FAB trio with Billy Bang and Joe Fonda, than Billy passed. Joe wanted to keep something going, so then Joe contacted Petri and said listen, Barry's been playing with this cat Jon and I've been playing with him, it's really good, I'd like to do a trio thing. So Petri said, "Yes, I'm coming to town, we'll talk." So we got together.
This is like a year ago?
No, this has all been done pretty quickly. This was maybe in March (2012), something like that. So then we're sitting there and we're talking and it seemed like Joe was setting up this date. It was going to be Joe's date and I said, "that's great," but then Petri says to me he wants me in his catalogue. So I said, "what does that mean… that this date is going to come out under my name?" And he said yes. And I said, "Oh, this is a whole other thing. If that's the case I want complete control." I looked at Joe; I says "Joe, I want the date then. It's not our date."
Rather than a collective band.
Yeah, I said "It's not our date, this is my date. It'll be my first date in twenty-four years and I want to do it my way completely." And he said, "I have nothing against that." And then I said to Petri, "since this has been set up by Joe and so on, and you want me in your catalogue, fine, but I want something that I have complete say over, so I want a second date," and he said yes.
THE 3DOM FACTOR
Barry Altchul
The 3dom Factor
TUM : 2013
Gotcha. And the second date would be quintet potentially?
Yeah.
Is that something where you'll write a whole new bunch of stuff, or arrange older tunes?
Actually I'd like to write a bunch of new stuff, and then I want to do another album, completely inside, with superstars, of the inside music that I've written, with the piano and everything.
Larger group? Trio?
Quintet.
Two separate quintets in the future.
Yeah….
Cool, so… let's go back to Brahma…
In those days, look, we did this we did that we had some gigs, this guy left, that guy left, and I'm just left with Ray, and Ray said that he's been playing with Mark, and that they've been doing a trio, and I said let's try it, and it worked great, so Brahma was formed. Brahma somehow, I got the Moers Festival, and when we came off the stage there was a woman there, Verna, a German lady, who said, "I'm an agent, I want to handle your group." And for the next five years, she took care of the band.
Late 70s, early 80s.
Up until 82/83.
How much did that band work every year at that time?
I would say we did 3-4 months a year.
So this is another question that his brings up, this thing about how much bands work now, right? Now, if you play a gig every month or two, every month or two each year that's a working band.
Yeah but most of the gigs were a week (spread out over a year).
So you do a week in a city and go to the next city and whatever?
Yeah, and sometimes… even the older days, cats worked for months… Monk worked six months at the fuckin' Five Spot.
How many records, 3 or 4?
Yeah, 3 or 4 but then Ray got Bell's Palsy, one of the records he couldn't be on that he was supposed to be on, and I have a bunch of unreleased stuff on professional reel to reel, and also video from German TV.
There was a Brahma book for all those years?
Yes and we had over two hundred tunes in the book. Everybody composed like a motherfucker, everybody's bringin' in all their shit, plus every standard tune we knew, we did arrangements on Mingus tunes, on Monk's stuff and this and that, that were very free, very open. Repertoire was no problem.
And that band was it fair to say it was led by you but also was a collaborative endeavor?
Yes, it was my band, it was first the Barry Altschul trio, and then I realized that our initials made the word Brahma, so I made up the word Brahma, but it was my band, I got the gigs, I took the losses, I paid the agents. But the rest of it was cooperative.
Did you ever feel a push and pull between how much you wanted to be the leader versus wanting it to be collaborative? Was there ever a time, maybe at the beginning, when you were like, this is my shit?
It was always that way. I have final say, period. I play with you, you have equal say in the music, I will not say we're only going to play my tunes, matter of fact we played everybody's tunes every set, we did that… and you know, it also was a nice change of vibrations, and sometimes if we have like two three days in a row we would say, like ok, all of Mark's tunes once, all of Ray's tunes one set, all of my tunes one set. Usually we put everybody's tunes in the set, but that was it, really. Money, after expenses were split pretty evenly, sometimes I was able to make, you know, fifty dollars more or something, but nothing much really, but it was my band.
So what about this 80s/90s thing when you weren't leading stuff. Did anyone offer you leader things in that period?
Well I was leading a whole bunch of stuff, but not in America.
All in Europe?
Yeah. I had a bunch of groups in Europe.
Stuff with Glenn Ferris, right?
Yeah… Glenn Ferris, Sean Bergin and Andy McKee, and then Andy left and I had cats like Wayne Dockery playing bass, Jack Gregg, Jean Jacques and the original, JF Jenny Clark, and cats like Ferris were pretty much a mainstay.
Were people offering to record these bands and you didn't want to do it?
I never had an offer to record these bands… well, we recorded one with Sean and Glenn and Andy McKee, That's Nice. Then there was another one with Turk Mauro, and Glenn Ferris and Wayne Dockery, and Wayne Dockery was very uptight that there was no piano, I said, "yeah it'll free you right up." It was… I mean, these cats were inside players… then I had a group with Frank Lacy and Roy Haynes' son.
Barry Altschul Quartet: (with Enrico Rava, John Surman, Mark Helias) "Tap-A-Jack" (from Irina):
Graham.
Graham, that was just for a few gigs.
New York, early 90s?
No, just Paris.
Oh, when Graham was there.
And (Frank) Lacy had a girlfriend there, and Jack Gregg was the bass player, and then Mark Thompson. You know Mark Thompson? Very out pianist. He was in one of my bands, in a trio that I had.
And then, so that's all Europe stuff, 80s, early 90s, and you came back to New York, and I remember you talking about leading bands with Ellery and Dave Douglas.
I hired them for a couple gigs.
Some Internet Café stuff.
And Sarah Lawrence gigs, but I was away for the whole Downtown scene. When I came back, I had missed the whole Downtown scene. Hayes was running the Internet Café, and he gave me a bunch of gigs there.
I remember bringing my girlfriend from college at the time. I was like "Barry Altschul's playing solo!"
But then I was calling people that I had missed, that I knew they knew who I was and, "I got a gig for you no rehearsals, or a jam session, pays this much, show up here." And so we did that.
Did you bring music to those?
No, no music; call tunes and play open, that was it. Then I formed a band and went out on the road with Uri Caine, Sam Rivers, and Santi Debriano. That was in the 90s. I have videotapes of that, all kinds of stuff. And then in 1999 I ran a club in New York, the Café Arteria in the Soho Grand hotel, piano trios. So I played with almost every piano player, in a bebop style.
You're saying you don't want to be a leader, meanwhile there's these decades where you want to play so you organize things as well as get called.
The point of fact is that I was in a band – not my own – for twenty years, consistently, from one band to the next.  From 1964-1984 I was in a band. I played in a band that worked.  From 1984 to 93 I did projects with different people in Europe and then I came back to America.
And so from 1993 to 2013, if you will…
From 1994-95 to 2003 I didn't do nothing. I was teaching. And little gigs. There were no real gigs.
And that band with Sam, Santi and Uri was?
1995.
That band toured Europe?
Europe and America. That's a band that the Village Vanguard… Lorraine (Gordon)… I gave her a tape of the band that was during the time of the young lions… she said "I love the music but I'm not giving you a gig." "Why," I said. "Too old," she said. My first gigs on the big international scene were 1964. I was 20-21. From 1994-95 to 2003-2004… I was here in New York. People thought I was dead, I don't know, I mean seriously, I heard that, but I was here, I did little gigs here and there, and in the later 90s I did some stuff with Paul Bley at Sweet Basil's.
When did stuff with Steve Swell start?
That started because of Roswell (Rudd). We were playing with Roswell.
2005?
Something like that…that first time (94-2004) I wasn't doing nothing and I didn't feel like it, I was depressed, I said I fuck this shit, I'm cool, I have some other ways of making money, I don't need this shit.
[continue to part two]