LAKE OF FEAR
THE MOONBEAM SONG
Nathan Hanson & Brian Roessler
Selenograhia
Community Pool : 2012
Now that the dust has settled on the New Year and the noise has quieted around the many Best Albums of the Year polls, we thought we'd offer a few favorite titles from 2012 that slipped through the cracks.
It was another great year for jazz in terms of artistic output — and we were big fans of many of the most celebrated albums: Wadada Leo Smith's monumental Ten Freedom Summers, Sam Rivers/Dave Holland/Barry Atschul's live Reunion, Tim Berne's Snakeoil, Henry Threadgill's latest Zooid outing, Vijay Iyer's Accelerando, Matthew Shipp's Elastic Aspects, and on and on. But there are other albums we played just as much that were met with relative silence, ones that we suspect you might dig as much as we did.
1. NATHAN HANSON & BRIAN ROESSLER | SELENOGRAPHIA (Community Pool)
It's a crime these guys aren't on the map of more adventurous jazz fans. Maybe the fact they hail from Minneapolis has left them below the radar. Their quartet Fantastic Merlins remains little known stateside but has a significant following in France and even scored a number one album there with beguiling reinterpretations of Leonard Cohen tunes. This remarkable duo album may be these musicians' most accomplished work yet – a concise collection of mysterioso tunes that's immediately accessible without sacrificing musical smarts. With just saxophone and bass,  Hanson and Roessler consistently generate surprisingly lush and melodic textures that don't stint on dynamic interplay. The bright orange vinyl edition is a physical marvel. If you only buy one album on the list, make it this one.
2. ERGO | IF NOT INERTIA (Cuneiform)
Given this was released by the venerable Cuneiform label and features Mary Halvorson on guitar, we're not sure how it was slept on. A mix of ambiance, electronics, and improvisation, Ergo offers a compelling vision of how jazz can thrive in the context of processed textures. The group ably blends trombone, lap top, Rhodes electric piano, guitar, and percussion into compositions that carve sculptural blocks of sound into rigorous, unpredictable, and playful ribbons. 21st Century fusion, ya'll — the way ahead.
3. PLANETARY UNKNOWN | LIVE AT JAZZFESTIVAL SAALFELDEN 2011 (AUM Fidelity)
So maybe this didn't scale the dizzying heights of Planetary Unknown's formidable debut, but the quartet of David S. Ware, Cooper-Moore, William Parker, and Muhammad Ali continued to deepen their mix of ballistic firepower and emotional nuance on this live date, featuring three lengthy tunes called "Precessionial." It also offered one last chance to hear Ware's keening, probing, and oceanic saxophone, a sound that only deepened during his health woes.
4. AARON NOVIK | SECRETS OF SECRETS (Tzadik)
"Combining Jewish gematria with contemporary classical compositional techniques he has created a strikingly original reading of Kabbalah" — words not necessarily destined to get pulses racing. But this neo-proggy combination of mysticism, chamber jazz, and heavy riffage held us in thrall all year. Since these are West Coast cats recording for Tzadik, the "discoverability" index is particularly low, but if you can get past the overheated description, a world of strange and beautiful sounds awaits. Call it Nu Jazz. Actually, on second thought, don't; don't do that. That's a terrible idea.
5. CECIL TAYLOR | THE COMPLETE NAT HENTOFF SESSIONS (Solar)
Cecil Taylor built his mature style in the mid 1960s and never looked back, so it's easy to underrate the remarkably vibrant music he made right out of the gate. This nicely priced four-disc box set collects all his Candid recordings (Cell Walk for Celeste, Air, Jumpin' Pumpkins, New York City R&B), plus a date with Gil Evans and live Newport material. The sessions are bolstered by luminaries including Steve Lacy, Ted Curson, Roswell Rudd, Archie Shepp, and Buell Neidlinger. It's a pleasure to hear Cecil with the Monk and Ellington influences foregrounded, confident in his own voice but teetering on the cusp of a radical new vocabulary, and all the more thrilling because of this. (This set is nearly identical to an OOP Mosaic release, The Complete Candid Recordings of Cecil Taylor & Buell Neidlinger, adding more tracks.)
AND FINALLY: FMP RARITIES
We'd be remiss if we didn't remind you about some of the amazing offerings in the FMP store that have been largely overlooked — including brand new releases from Cecil Taylor and several landmark solo recordings.
1. CECIL TAYLOR ENSEMBLE | ALMEDA (TO MATIE) (FMP)
An unreleased session from 1996 that we were thrilled to be able to bring out in 2012, this album showcases Taylor leading a large band of mostly European players through four takes of the title tune. It allows a remarkable look at Taylor's working process, and the 30+-minute final take is a triumph. This title showed up on John Szwed's great best-of-2012 list, which was a wonderful surprise.
2. MICHEL PILZ | CARPATHES (FMP)
The only recording of this international trio — Pilz, joined by Peter Kowald and Paul Lovens — Carpathes captures all three musicians in an inspired mood. Originally released in 1976, and never on CD, the record holds up extremely well, and is an under-known gem.
3. JAMES EMERY | EXO ESO (FMP)
We knew Emery mostly via his work with the String Trio of New York; this solo outing on acoustic guitar from 1987 was a revelation. As the Cadence critic put it, "Exo Eso is one of the most ambitious, exciting, and ultimately successful recordings I have ever heard by a guitarist." If Derek Bailey or Marc Ribot is in your pantheon, you need to hear this.
4. JOHN TCHICAI | SOLO (FMP)
Among other things, 2012 was a shit year for jazz deaths. We won't recount the litany here, but Tchicai was among the many, and a painful loss. If you find your Tchicai larder relatively bare, and would like to enjoy the alto master uncut, here is a great chance to bask in his creativity.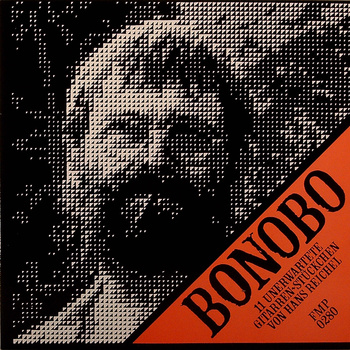 5. HANS REICHEL | BONOBO (FMP)
And speaking of creativity, this solo recording from guitarist/inventor Reichel highlights his otherworldly approach to the electric guitar. At least we think it's a guitar. Given the way he has pimped out his instrument, and the varied sounds it generates, it's really anyone's guess what to call it. The music, on the other hand, we call stunning.
HONORABLE MENTIONS:
D:O Radio is highlighting many of the songs and albums that didn't make this list. You can hear our first such show via the WFMU archive here. Tune in on Monday, 4 February, for the second part of our extended tribute to the best of 2012.