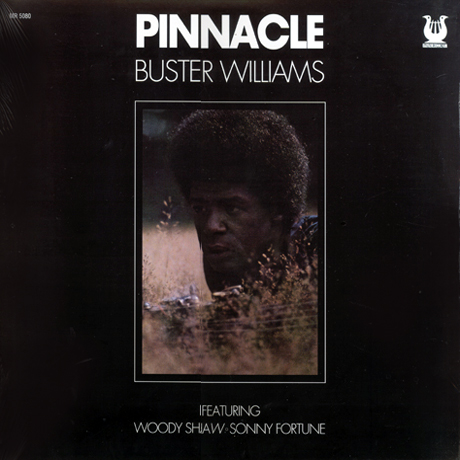 BATUKI
Buster Williams
Pinnacle
Muse Records : 1975
BW, acoustic bass; Sonny Fortune, flute; Woody Shaw, trumpet; Earl Turbinton, soprano sax; Onaje Allan Gumbs, moog, electric and acoustic piano; Guilherme Franco, percussion; Billy Hart, drums.
You want to know if a jazz fusion album is any good, check the expiration date. If it was recorded after 1975, it's very likely past its prime. (Exception: Japanese fusion). Buster Williams' Pinnacle was recorded right on this dividing line and serves as a classic case in point. It features some of the adventurous textures and arrangements that made his work with Herbie Hancock so stirring, but it also shows signs of the diluted and often crass mix of jazz, funk, and rock that afflicted fusion during the second half of the decade.
The album's highlight is its exotic closer, "Batuki." It stretches out for a beautifully languid 15-minutes, highlighted by some understated Fender Rhodes playing, a burbling groove, and subtle percussion. The horns add soft colors and sharp solos. This is also a showcase for Williams' bass playing, which alternately carves out new sonic spaces and stitches together the tune's continually shifting sections.
Williams has played with countless musicians over the years, but we're most fond of his stint in Herbie Hancock's visionary electric Mwandishi ensemble (1969-72) — which included Benny Maupin, Billy Hart, Eddie Henderson, Julian Priester, and Patrick Gleason. Where Henderson and Priester's astonishing early solo albums are basically satellite albums of the group, Pinnacle adds vocals and R&B nods to some tracks and seems ready to shed the bracing Afro-futurist strategies for something with more commercial appeal. (Not unlike Herbie himself at this time.)
"Batuki" might be a last gasp of sorts, but it's an elegant and unhurried one. A reminder to luxuriate in life's blissful moments before they're gone.